Discover more from Dirty Bubble Media
Original investigations and insightful analysis of finance, fraud, and the dirtiest bubble of the 21st century.
Over 18,000 subscribers
Who spends $24 million on an NFT? Meet Deepak Thapliyal, the CEO from nowhere. (updated)
The money traces back to a resurrected blockchain company, a sketchy token, and an obscure crypto exchange
On Saturday, 2/13/22, another massive NFT purchase was breathlessly hyped on social media. Cryptopunk 5822, a "alien" Cryptopunk, was sold for 8,000 Ethereum (Eth), equivalent to $23.7 million. 5822 was purchased by Deepak Thapliyal, CEO of Chain, who previously gained notoriety for paying $4.5 million for a "Mega Mutant Serum" NFT in early January 2022.
Here at Dirty Bubble Media, our motto is "follow the money." In this case, the blockchain trail leads back to a mysterious CEO, a resurrected blockchain tech firm, and a "$10 billion" token that is likely worthless.
Following the money
Previously, large purchases by Mr. Thapliyal were funded via simple transfers from the FTX exchange directly to his wallet. However, the money for Cryptopunk 5822 came via a complex series of transactions involving multiple wallets, exchanges, and the DeFi platform Compound. The transactions started on 1/21/22 with the "Chain Team 2" wallet ("CT2"):
On 1/21/22, $70 million of the USDC stablecoin was transferred from the Bittrex exchange to "CT2" in seventeen installments.

"CT2" then transferred $70 million USDC to FTX.

FTX sent back 8307 Ethereum (Eth), worth ~$20 million at the time

Mutiple swaps through a contract created by the 1inch decentralized exchange ended up sending an additional 12,476 Eth to "CT2"
On 2/12/22, "CT2" sent 20,000 Eth to the wallet of Chain CEO Deepak Thapliyal ("deepak.eth"). Two minutes later, "deepak.eth" transferred all 20,000 Eth to Compound DeFi protocol. He then proceeded to borrow $25 million in USDC from Compound, which was sent to the same 1inch contract that "CT2" previously interacted with. The contract swapped the $25 million USDC for 8,000 Eth. Finally, deepak.eth purchased Cryptopunk 5822 for 8,000 Eth from Larva Labs.
As usual, the blockchain transactions leave us with more questions than answers. Who is Deepak Thapliyal? What does Chain do to make this kind of money? And why did Bittrex send $70 million to Chain to be used for NFT purchases?
Deepak Thapliyal, the CEO from nowhere
It is usually easy to find lots of information about executives of companies like Chain. Typically, there will be a blurb on the company's website, a LinkedIn page, Youtube videos, articles citing their statements, etc. However, Mr. Thapliyal bucks this trend. There is no page on the chain.com site dedicated to their leadership, and we were unable to find a Linkedin page for him. We only identified one recent article that quoted Mr. Thapliyal, and there is only one Youtube video (published by Chain) that we could find. His verified Twitter account became active in November of 2021; it was renamed from "This_That_Vip:"
So, from the Internet's perspective, the unknown Mr. Thapliyal emerged from thin air in November 2021 when he became CEO of Chain… so next, let's look at Chain.
Once a crypto giant, Chain is a shell of its former self
Founded in 2014, Chain set out to develop blockchain solutions for commercial clients. Chain received funding from multiple major corporations, including Visa and Citibank. In 2018, they were acquired by the Stellar Development Foundation, reportedly for as much as $500 million. However, Chain was subsequently "re-acquired" by unknown parties in 2021. This re-acquisition included the Chain name, but does not appear to have included the intellectual property from Chain. A significant amount of space on the current chain.com website emphasizes the company's early successes prior to its acquisition by Stellar. The website does not identify any of the executives or investors in this new company.
Chain now offers "Sequence," a private blockchain service which seems similar to the original concept Chain was built around. Sequence is still under development according to the new Chain site.Chain also issued a new crypto token called "Chain" (CHN), which purports to be a "utility token" used for "discounts, premium access, and to pay for commercial fees." The description also claims that Chain will be a governance token for "community driven projects:"
Based on this information, it appears Chain is a new company with its major products still under development. So where is all the money for these NFT purchases coming from?
Why did Bittrex give Chain $70 million? It may come back to CHN
Chain Token (CHN) appears to be the only product currently offered by Chain, suggesting that this token may be the primary source of revenue for Chain. CHN currently trades at around $100/token, making the total CHN market cap ~$10 billion. However, this market cap likely does not reflect the true value of CHN, as we will show. To understand the market for CHN, it is important to examine who owns CHN, how concentrated the ownership is, and how it trades on exchanges.
First, let's examine the distribution of CHN. CHN is hyper-concentrated, with the top ten wallets holding 75% of the total supply. Of these ten wallets, eight are Chain-controlled or associated. Notably, the Bittrex exchange is the fifth-largest holder of CHN, with nearly eight million tokens:
Looking at smaller CHN wallets, a strange pattern emerges: Many of these wallets hold nearly identical amounts of CHN and received their CHN directly from the Chain-controlled wallets. This pattern suggests that the majority of CHN holders are likely "ghost wallets," essentially stash wallets not linked to real people.
etherscan.io/token/0x41c37a…
Ok if you try to toggle around 10-15 page in, I do not think you will find real buyers of this coin called $CHN, most are nice & evenly airdropped ghost wallets with direct trace back to the contract creator.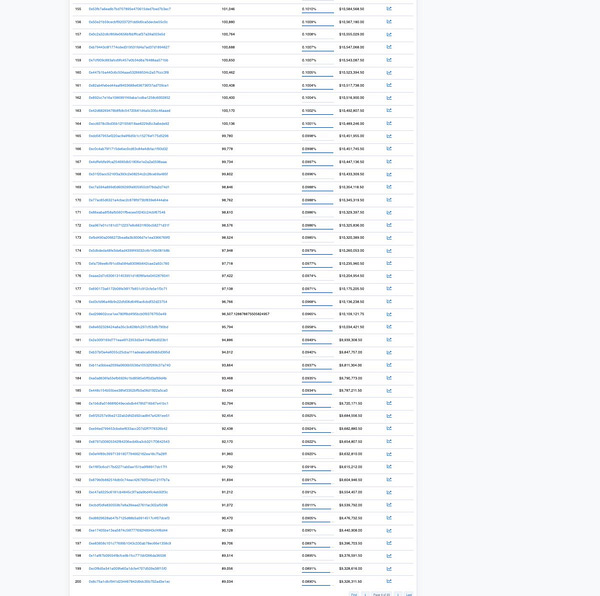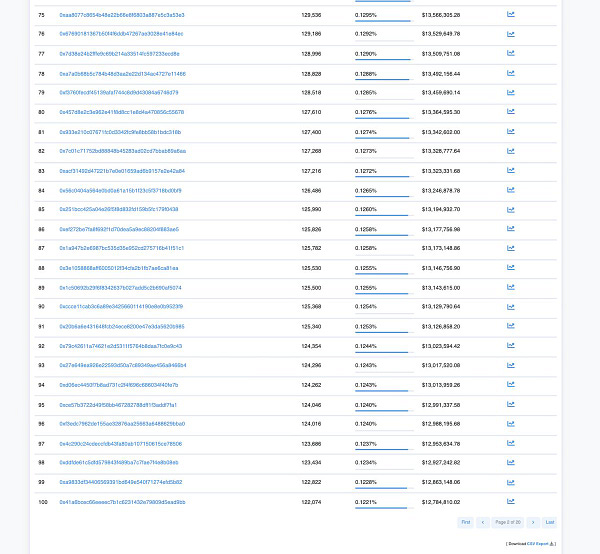 The trading activity for CHN demonstrates relatively low market demand for the token, with daily volume averaging only ~$10 million, or 0.1% of the CHN market cap. CHN mostly trades on Bittrex, BitMart, and Uniswap, with Bittrex accounting for ~90% of daily trading volume:
Notably, despite being a thinly-traded and relatively obscure token, the CHN:USDT pair somehow manages to be the largest trading pair on Bittrex, accounting for over 12% of their exchange's total volume:
And, unexpectedly, it turns out CHN token is the largest single holding in the Bittrex exchange wallet, with a larger USD balance than all the other tokens in their wallet combined…
Despite the Bittrex exchange contributing ~90% of CHN daily volume, there have only been 54 transfers of CHN token to and from the exchange. Even more concerning, these transactions occurred between Bittrex and only nine other wallets, most of which are directly linked to Chain.
Finally, CHN exhibits strange trading patterns on both Bittrex and BitMart, including abnormally consistent volume and long stretches with no volatility punctuated by occasional wide swings in CHN value:
Together, these data suggest that 1) Most CHN tokens are controlled by Chain; 2) There is likely little true demand for CHN, and 3) the price of CHN is manipulated, possibly with help from exchanges like Bittrex.
Conclusions
As usual, our tour of the blockchain leaves us with more questions than answers. While we can show a close relationship between Chain and Bittrex, we don't know the origin or extent of that relationship. We know that Mr. Thapliyal is a big-spending CEO, but his origin and path to joining Chain remains mysterious. We also don't know why a new company (with their main products still under development) would send $70 million to their CEO's personal wallet to buy NFTs. We don't even know who owns Chain…
If Chain was developing consumer-facing products, these NFT purchases might (barely) make sense as a publicity stunt. However, Chain claims to be focusing on highly technical commercial blockchain solutions. We doubt that a business would be persuaded to partner with Chain because their CEO spends big on Cryptopunk. If anything, that should be considered a massive red flag.